A few years ago Songbird acquired full rights to Battlemorph for the Atari Jaguar. This game is widely recognized as one of the best titles to ever be published for the Jaguar even though it requires the elusive (and expensive!) CD attachment for the Jag. Over the years the game itself has become equally elusive, but no more! Songbird is happy to announce a reprint of the classic Jaguar CD game.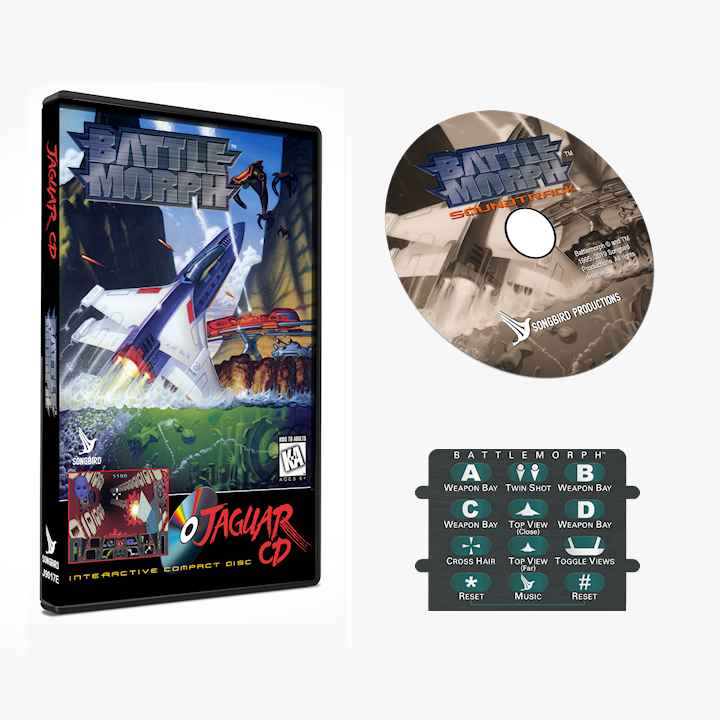 This one-time, limited-run of Battlemorph includes the original game on a professionally glass-mastered CD (not a CDR), full-color manual, and DVD-style case in shrink-wrap. To make it even better for Jaguar fans, we're offering a laser-cut flexible plastic overlay for use on your Jaguar controller. And for the first time ever, the Battlemorph soundtrack is being released a companion audio CD! You can buy just the overlay, just the audio CD, just the game, or go all in for the deluxe package.
PRE-ORDER SPECIAL: Through July 20, 2021, the game, audio CD, and all-in bundle are on sale. Pick up your copy today because prices go up once the pre-orders end!