Songbird is excited to announce the upcoming release of Towers II Enhanced Stargazer Edition for the Jaguar. The game was fully remastered by the original development team at JV Games, and includes numerous features such as improved frame rate, 16-bit CRY graphics with light-sourcing, in-game audio for NPC encounters, and more storage for game saves. A full list of improvements is included at the end of this article.
Pre-orders opened on June 28, 2023. Coming to the Jaguar in August/September 2023.
There will be two editions of the game available for pre-order on June 28, 2023. "1st Run" will only be printed on the initial batch of boxes and stickers; future runs will not have that marker.
Standard Edition ($99.95):
September release target
Limited to 250 units
Black / dark gray shell
"1st Run" printed on box and cart sticker
Signature Edition ($129.95):
SOLD OUT
August release target
Limited to 50 units
Clear shell (only way to get clear shell for Towers II Enhanced)
"1st Run" printed on box and cart sticker
JV Games 3″ sticker
Towers II Enhanced acrylic pin
Full-color numbered postcard with special message from JV Games and hand-signed by them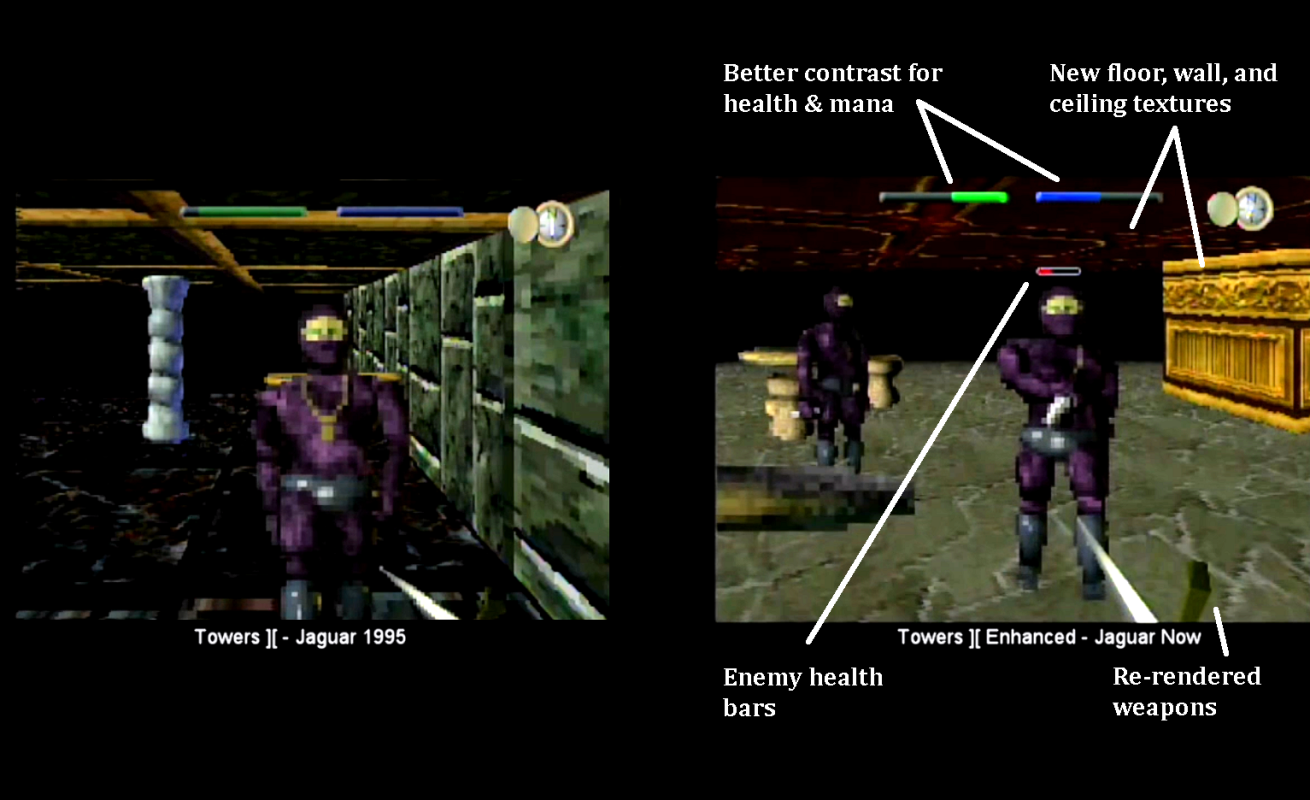 How could so many new features be crammed into a game from 25 years ago? This was made possible by expanding the ROM from 2MB to 4MB, and also by increasing the saved game EEPROM from 128 bytes to 2,048 bytes. The JV Games team painstakingly went through the best features from the PC and Gameboy Color versions of the game to port back to the Jaguar, while also bringing new enhancements to life for the very first time.
In addition to better visuals and a performance boost, numerous quality-of-life improvements were brought to the game. Eating food, equipping items, learning spells, and opening doors are all now streamlined activities. Strafing is properly supported for ProController owners. And — importantly — NPCs no longer walk away while you are talking, and cannot be killed if they are essential to completing your quest!
One of the last changes was the graphics upgrade from 16-bit RGB to 16-bit CRY. This doesn't change the resolution of the graphics, but it does enable an important feature: light-sourcing! The tower now has rudimentary light sources sprinkled throughout each level,which enables graphics to be darker or brighter depending on proximity to a light source. See below for a comparison of the same room, but in Towers II ESE, you can see the table, stool, and guard are significantly darker than before. And as you run closer to a light source, the environment will brighten appropriately.
We'll continue to update this article as more details, screenshots, or videos become available. Watch for pre-orders to open in June 2023!
Full list of features in Towers II ESE:
Upgraded ROM from 2MB to 4MB
Save game EEPROM increased from 128 bytes to 2048 bytes
Screen enlarged from 320×200 to 320×220
Optimized assembly code that runs about 10%-15% faster
Rewrite of GPU visible frustum algorithm for better texture culling
Replaced dungeon graphics (walls, floors, ceilings, and doors)
Added NPC vocals from the PC version
Graphics are now "perspective corrected"
Changed intro screens & added short FMV
Several puzzle changes & cleanups throughout the game
Tightened and cleaned up movement controls
A, B, C, and Option buttons are now customizable
ProController support
Inventory assist will whisk items to inventory panel for streamlined function
Open & close doors and pull chains in movement mode via the attack button
All items now display weight and stats
Spells and weapons that monsters are immune to will be stated when attacking
Important NPCs can not be accidentally eliminated until they outlive their usefulness
Monster AI improvements from PC version added
Added additional automap details like pits, chains, teleports, and holes in ceilings
Status appears above enemy's head when hitting them
Running into NPCs will now activate vocals and text
Holding items in your character's "hand", will auto-trade with NPCs
Added new better-looking fonts
New end-of-game visuals
New in-game map graphic
Merton – the magic user – gets a spell at the start of the game
NPCs no longer walk away when you are talking to them