Timestream: The RemnantTM
Game Synopsis:
TIMESTREAM: THE REMNANT is a strategy trading card game of Biblical proportions. Each player must travel back in time to the "Age of Apostles." Then journey to ancient Biblical city and record an event of scriptural importance with a futuristic data cell card. Once completed, they must use the TIMESTREAM card to return to the future age and win the game.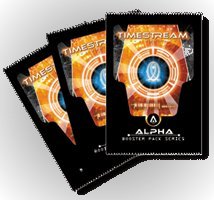 ALPHA: is the first run of booster pack cards for TIMESTREAM: THE REMNANT. ALPHA BOOSTER cards are extremely powerful and add an exciting new dimension to your TIMESTREAM game. Each pack contains 10 cards made up of Common, Rare, and Ultra Rare cards.
Contents:
10 Random Booster Cards
Common, Rare, and Ultra Rare random mix
Throughout the ALPHA BOOSTER packs you will find SCRIPTURE CARDS. There are 7 UNIQUE Scripture cards with the ALPHA BOOSTER PACK series. These cards will be highly collectable. Each card possesses an area for each player to record the winner and challenger of the game. Players can trade and track their TIMESTREAM victories.