S.U.P.E.R.
Scrap's Upgrade Pack and Expansion Revison
Expansion for Heroes Incorporated
Description:
S.U.P.E.R. is the first expansion pack to Heroes Incorporated, the super-powered hero boardgame where Crime Fighting DOES pay! Scrap's Upgrade Pack and Expansion Revison not only features new components to increase the fun, but it also enhances existing bits from the core game.
Contents:
5 New HEROES with unique powers
7 additional GADGETS including the introduction of very powerful Team HQ Gadgets!
More than 20 additional RESEARCH CARDS
New SUPER VILLAINS - fully-illustrated replacement cards for existing villains and special villain rules
JUSTICE TOKENS that help even out the luck of the dice
A completely rewritten and updated RULE BOOK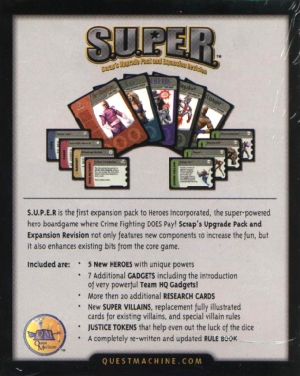 NOTE: Not a stand-alone game. Requires the Heroes Incorporated board game to play.